blog
Risk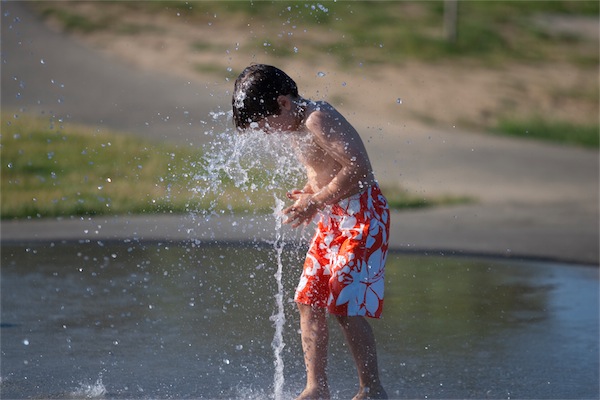 One of the risks of writing out your thoughts is this… you wrote them out for others to see. That's right! It's in print, black and white, posted in cyberspace and retweeted around the globe in moments to "friends" and "followers." It might have sounded like a good idea at first to write it down and publish it, but then it hits you smack-dab-in-the-face. "What was I thinking?" or "Why did I write that?" Or, perhaps what you wrote speaks in such questionable tones, the reader cannot tell if you are serious or joking.
Not long ago, I was watching children play at a local water park in our community and my curious son was among them. The park was full of children and water fun features. There were canons that fired streams of water back and forth that made even the six-year-old, toothless buccaneers, scream, "arrrr," as they sprayed one another in battle. Other children danced like fairies under columns of water that bloomed at the top like daisies then rained down like the April showers from their heads to their toes.
As I watched the children play, I noticed my son Caleb investigating several holes in the ground around the saturated playground edge. These "holes" were not as populated as the many other hydro features… They reminded me of the holes that fired poisonous darts, from the jungle walls of obscure tiki faces, at Indiana Jones. As I watched his curiosity, I noticed jets of water were shooting up from these holes, and like dominos and they were rapidly approaching an unaware Caleb. As he peered into this hole in the ground a jet of water shot up and exploded into his face with such fury, it made the destruction of the Death Star look like a 1950's B-movie… and I got a picture of it.
He will never live this down… I've got it and I've posted it on my blog. I know… shame on me for being so cruel as to not shout, "LOOK OUT SON!" Instead I watched it like a train wreck or freestyle cat juggling… I just couldn't turn my head or stop clicking away with my camera.
Like my son in the water park, "mysterious holes in the ground sometimes explode in our faces," as our fingers strike the keyboard or pen hits the paper and we publish. If we're going to a water park, chances are we're going to get wet. If you write, chances are your going to write something that someone doesn't get or doesn't like. There are many other writers here, some play in different parts of the park, some are more safe than others and some just watch the train wreck. Sometimes we get it in the face, I know I have lately. Curiosity does that but we must not forget where we are.
After the dowsing of his nasal cavity, Caleb shook his head, laughed, screamed, "COOL!" and continued to play and explore with a little more insight to those "holes in the ground." We all get it in the face sometimes. Shake your head off and scream, "COOL!" and move on to the next adventure or story. It's OK to write something and change your mind. It's OK to be misunderstood… it makes for better stories sometimes. Don't miss going to the park because you're afraid to get wet. Go prepared, shake it off, laugh and have a good time.
"The thief comes only to steal and kill and destroy; I came that they may have life, and have it abundantly."
– Jesus
peace.
johno~
blog comments powered by

Disqus