Uncategorized
52 blessings 02.2010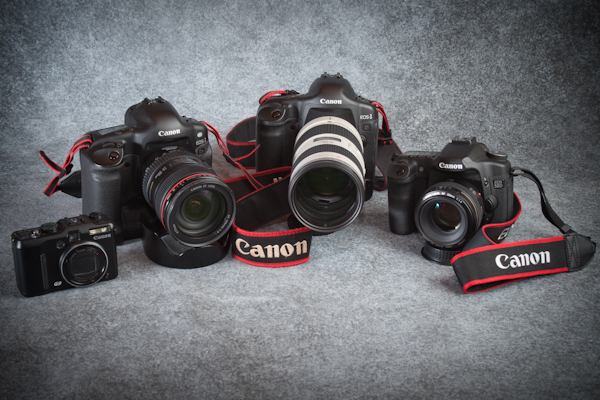 Chalk this up to my first real product shot… I have to say, "I'm blessed."
I'm not sure I could go into all the details of this photo. Yes, I know it's a bunch of Canon cameras, but it's more.
Last year my family and I were returning home form the Oregon coast after speaking at a youth retreat followed up by a few days of personal family time. In route, and on our last leg home, we thought it would be a good idea to stop at a restaurant we don't often get to. The parking lot was full and for a moment I thought we should just skip it, however the overflow lot across the street had a few empty spots. Sandwiched between three busy food joints, I chose to park our van under a light. It wasn't dark and it most likely wouldn't be by the time we finished but, you know what they always say.
We ate, we laughed, we used the bathroom and left. Upon returning to our van after a nice meal, I noticed something black all over the ground and what looked to be a white sock. Funny, there's a sock on the ground. We approached the car and I noticed that the black on the ground was little pieces of glass… it was glass from our rear window. I thought, "Someone hit our car." It was Dawnette who said, "They stole our stuff!"
Just replaying that moment in my mind as I write this, makes my stomach knot up. It's a sick feeling, a stomach punch when you're not expecting it. A moment when the whole world slows WAY down. "They took my camera bag! They took my laptop. They took my guitar!" In all they stole two laptop bags, with the two macbook pros, my camera gear, and my guitar. An estimated $11,000+ in all "replacement cost." Not even including the two hard drives that held my photos. (Yes I had 2008 backed up, but not January – March 2009)
Hours with paperwork, police reports and long phone conversations with insurance claims, I thought I would never see another piece of camera gear. Just so you know, all my gear is paid for. I don't use Visa… I work for it and when I have the money, then I get it.
Looking back now, It was a good check in my life to really see what was important. A friend called me to check on me a few days later. After a bit of conversation, he said, "You sound pretty calm for what's just happened." I'm so thankful for that. I don't want this stuff to rule my life. I want it to be a tool for blessing not binding.
It's one of those things that you really don't know how you will react until it happens. In Christ, all I could do was trust that it would be OK. I didn't need it all back. They had left me with one camera which was under a blanket on the front seat… It was OK… It was. Better than I deserve, our insurance was "Replacement Cost" insurance. I didn't get everything replaced, but I was able to make some choices that would allow me to use this "stuff" for good. I got some good stuff.
This year, Lord willing, I will be traveling with World Vision to, Mexico and Guatemala and then a return visit to Uganda for Faith Quest Uganda 2010 with a ministry team from the NW. It's my goal to use the gift of photography to bless many and tell the story of people around the world. Photography is a wonderful tool to be used and I plan on using it for blessings and not curses.
peace.
johno~
blog comments powered by

Disqus